Australian athletes told to wear team gear in city
By Steve Keating
BEIJING (Reuters) - Australian athletes will be advised to wear team uniforms outside of the Olympic village after a relative of a U.S. coach was stabbed to death in Beijing, the Australian Olympic Committee (AOC) said on Sunday.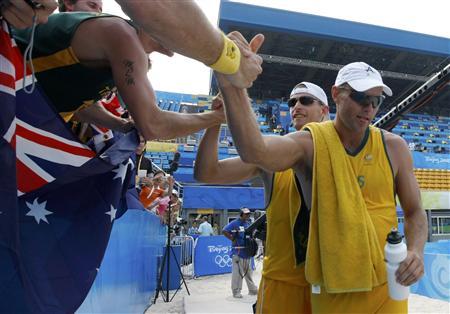 Rather than marking them out as potential targets, the AOC president told reporters he believed athletes in team gear would stand out more for the thousands of Olympic volunteers and police spread out across the city.
"We will certainly impressing on our athletes that when their competition is over and they go downtown, there are so many volunteers around, that it would be wise to be branded," AOC president John Coates told reporters. "We really should be insisting they wear their team gear.
"I think there is more likelihood of people keeping an eye out for your security if you are in gear."
The precautionary move comes a day after a Chinese man stabbed to death Todd Bachman, father-in-law of the U.S. men's volleyball team coach, and seriously wounded his wife Barbara at a tourist spot in Beijing.
The attacker jumped to his death after the stabbing. The motive is not known.
The United States Olympic Committee said the couple were not wearing any apparel that identified them as relatives of members of the U.S. delegation at the time of the attack.
Coates said the unprovoked attack would not stop athletes from going downtown but expected team members to be more vigilant about their surroundings.
"What I read is there is no link to any terrorist group, it seems very random," said Coates.
(Editing by Keith Weir)
© Thomson Reuters 2023 All rights reserved.