Cabbage reborn as fresh green Japanese lingerie
TOKYO (Reuters Life!) - It isn't exactly the most exciting of vegetables, but the humble cabbage has inspired a budding Japanese lingerie designer and won her the chance to showcase her creations on the world stage.
Tokyo fashion design student Sachino Kurozu's multi-layered underwear in a fresh green, inspired by a sprouting cabbage, was picked as this year's winner of a Tokyo lingerie competition organized by underwear manufacturer Triumph, known for its novelty bras featuring unusual designs.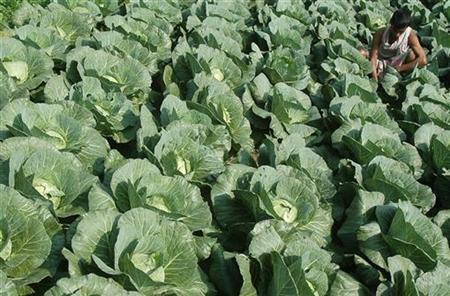 Triumph's most recent promotional offering was a bra with an electronic nuptial clock for husband-hunting women.
Kurozu, 20, said her design was intended to express women's "blooming beauty." She will now go on to compete at a global Triumph contest in Milan later this year.
"The cabbage underwear was so cute. Many designers adapted Japanese themes, but the cabbage one was so unique and catchy," said Haruna Hirasawa, a fashion student at the show.
Cabbages were not the only vegetables on offer. Another design student created underwear entitled "Onion," featuring brown frills.
The winner of Triumph's Milan competition will receive a cash prize and the opportunity to adapt their design into a commercial underwear set.
Last year, a Japanese student designer won the international award with her lingerie collection, "Under Skin."
(Reporting by Toshi Maeda, editing by Miral Fahmy)
© Thomson Reuters 2022 All rights reserved.