Gold hits near 2-months high, scope for gains seen
Published
today
Aug 17, 2010
(Reuters) - Gold briefly touched its highest level in nearly two months on Tuesday, boosted by a weak dollar and expectations of further buying by investors concerned about financial stability and looking for perceived safe haven assets.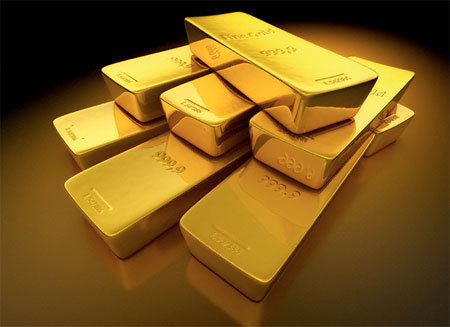 Photo : Corbis
Spot gold hit $1,227.60 -- its highest level since July 1, and was later bid at $1,226.65 an ounce at 1138 GMT, against $1,222.85 late in New York on Monday.
U.S. gold futures for December delivery rose 2.5 cents an ounce to $1,228.70.
"Historically, gold has a very strong relationship with currencies and this has been somewhat mixed this year," said RBS analyst Daniel Major. "(But) the last few weeks ... the currencies have started to have a bit more of a play on gold prices. This has been the predominant driver of the rally."
The euro rose against the dollar and came off seven-week lows against the yen, helped as solid results at Irish and Spanish bond auctions alleviated concerns about heavily indebted euro zone countries.
But the euro struggled to hold above $1.29 on uneasiness about the economic outlook, with a key German survey sparking concerns about whether Europe's largest economy can sustain a solid recovery.
"People are worried about the pace of recovery, particularly after some quite weak data out of the United States and Japan recently," said Daniel Smith, an analyst at Standard Chartered Bank.
"At the moment it looks like the market is breaking down that overhead resistance and we're likely to move up to $1,250 as the next target," he added
Bullion touched a record high of $1,264.90 an ounce on June 21.
Earlier this week, data showed that growth in Japan's economy slowed to a crawl in the second quarter and analysts see more weakness ahead.
Dealers in Asia reported buying from investors and selling from jewelry makers. There was soft physical buying from top consumer India as demand is set to pick up for the busy festival season, starting with Raksha Bandhan on August 24 and extending till Dhanteras in November.
"We've seen some good buying out of India -- that is going pretty well," added Smith. "Of course India has a problem with inflation ... the impact on gold is a little bit unclear."
All eyes are on U.S. data due later in the day, including U.S. July producer prices and July housing starts and permits due at 1230 GMT, and U.S. July industrial production and capacity utilization numbers due at 1315 GMT.
Ahead of that, German analyst and investor sentiment fell in August to its lowest since April 2009, a closely watched survey showed.
"Bullion gained ground with the late July short-term uptrend intact as risk aversion and a fresh flight to safety pushed prices toward 2-month highs," VTB Capital said in a note.
"Macro data has been far from rosy with the broader market taking yet another hit, while the dollar index rebounded toward July's highs."
Elsewhere investment demand for physically backed gold remained strong.
A quarterly securities filing on Monday showed that billionaire investor George Soros stuck with his big bet on gold but slashed his holdings in dozens of major U.S. companies from Verizon Communications to Pfizer.
The Singapore Mercantile Exchange said it will open for trading in gold, oil and euro-dollar futures on August 31. The first phase of product launches will include a Gold Futures Contract with physical delivery, West Texas Intermediate crude, Brent-Euro crude and euro-dollar futures contracts, amongst others.
Among other precious metals, silver was at $18.51 an ounce versus $18.35.
In related news, Bolivian protesters ended more than two weeks of demonstrations on Monday that disrupted operations at two of the world's top silver deposits, and Japan's Sumitomo said it had resumed work at its halted mine.
Platinum was at $1,538.50 an ounce versus $1,529.00 and palladium at $488.38 against $480.50.
(Reporting by Michael Taylor; editing by Alison Birrane)
© Thomson Reuters 2020 All rights reserved.