Gold steady as consumers counter risk appetite
Published
today
Sep 13, 2010
(Reuters) - Gold steadied on Monday, partly shrugging off the weight of positive investor sentiment stemming from a deal on global banking rules, upbeat Chinese data and a rally in risk-linked assets.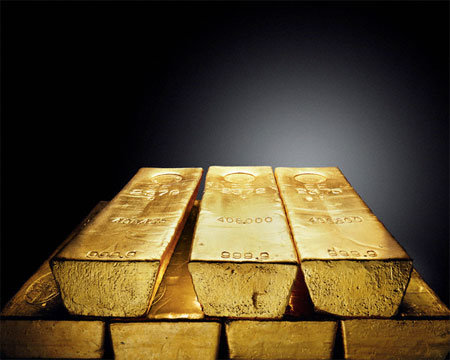 Photo : Corbis
Other industrial commodities such as crude oil, platinum group metals and copper all benefited from the perception that the outlook for global growth had brightened somewhat.
The agreement among global regulators on bank capital rules, known as Basel III, requires the sector to raise hundreds of billions of euros, but over a longer timeframe than originally expected, which boosted financial shares.
Spot gold prices were at $1,245.75 an ounce by 1445 GMT (10:45 a.m. EDT), against $1,245 in New York on Friday. Yet prices remain within around 1.5 percent of the all-time highs set in late June at $1,264.90 when investor nervousness was heightened.
U.S. December gold futures rose $1.6 ounce to $1,248.10.
"The macro-environment hasn't changed significantly, but the data is improving, also the Basel III agreement adds some certainty about the future of the banking system even though it triples the capital ratios," said Andrey Kryuchenkov, an analyst at VTB Capital.
"In the long run ... gold is still well supported, not least because of seasonal demand, because on every dip it will be supported by demand in Asia," he said.
The new banking requirements will require banks to hold top-quality capital totaling 7 percent of their risk-bearing assets, but a long lead-in time eased fears that lenders will have to rush to raise capital.
On Wall Street, the Dow Jones .DJI briefly rose more than 1 percent, while euro zone government bond prices eased in line with a dissipation in the kind of risk aversion that has helped put gold on track for a 14 percent rise this year. .N
"It seems risk is a bit back on the table, with China looking okay and Basel swinging the whip, but so far ahead that it's going to take quite a few years for the banks to implement (the rules)," Ole Hansen, senior manager at Saxo Bank, said.
Hansen said gold was facing fairly stiff resistance around $1,260 and support was evident at $1,240, then around $1,222.
Adding to the pressure on gold was a broad-based decline in the dollar, which fell 1 percent against the euro as investors took on more risk.
Gold usually benefits from weakness in the dollar, which makes bullion cheaper to non-U.S. buyers, but the inverse relationship between the two has eroded somewhat in recent weeks as risk appetite has dominated flows into both assets.
UPBEAT DEMAND OUTLOOK
Although consumer demand in Asia was muted on Monday, this time of year marks a period of intense offtake in India, the world's largest consumer, while the outlook for demand in Europe this year looks fairly bright.
Jewelry sales in Italy, Europe's largest jewelry market, are likely to rise by 10-12 percent this year, and grow again next year as consumer demand slowly improves after the economic crisis, according to a senior industry official.
Helping improve risk appetite was a pickup in Chinese industrial production and money growth in August that reflected buoyant economic growth despite government efforts to clamp down on bank lending and property speculation.
Michael Blumenroth, an analyst with Deutsche Bank, said if an improving economic backdrop added to price pressures, this would maintain gold's allure as a hedge against inflation.
"If risk appetite does come back and bonds go down and stocks up, then people will get the inflation theme on the table soon, then gold will be bought because of that," he said.
Silver and the platinum group metals rose along with other industrial commodities such as crude oil and base metals like copper on the back of rising expectations for demand from China, a major consumer of raw materials.
Spot silver was last at $20.16 an ounce, against $19.84 on Friday, while platinum was at $1,549.50 an ounce, against $1,536.98 and palladium was at $524.33, from $514.63.
(Additional reporting by Maytaal Angel)
(Editing by Alison Birrane)
© Thomson Reuters 2019 All rights reserved.