Judge: Steve & Barry's can pay Venus Williams
By Emily Chasan
NEW YORK (Reuters) - Bankrupt apparel chain Steve & Barry's LLC can pay tennis star Venus Williams under the terms of her clothing line contract, a U.S. bankruptcy judge said on Tuesday.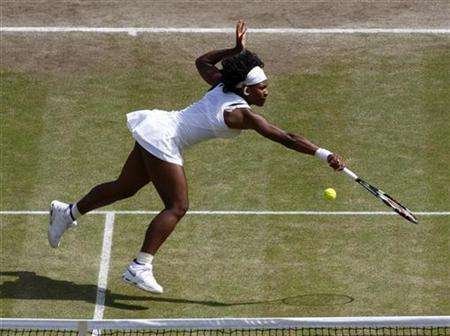 Steve & Barry's, which plans to sell itself at an auction later this month, can pay Williams the $250,000 owed to her under a license agreement, provided she makes certain assurances, Judge Allan Gropper said at a court hearing in Manhattan.
Steve & Barry's was seeking to make $625,000 in payments to Williams, professional surfer Laird Hamilton and basketball player Ben Wallace for their license agreements, but Gropper said the company should wait at least two weeks until its sale procedures are approved.
He said the payment to Williams could be made now as she is expected to wear Steve & Barry's apparel while competing in the Olympic Games in Beijing over the next few weeks. Williams wore designs from her Steve & Barry's "Eleven" clothing line when she won the Wimbledon singles title a month ago.
Gropper said he would allow the other two celebrities to submit further proof that they needed to be paid more urgently. He said all the celebrities, including Williams, would have to show that Steve & Barry's would benefit from something other than "amorphous good will" by paying the celebrities now.
Celebrity-licensed clothing at Steve & Barry's accounted for 41 percent of the chain's in-store sales year-to-date, a lawyer for the company, Shai Waisman, said at the hearing.
The company also sells clothing lines created by actresses Sarah Jessica Parker and Amanda Bynes, but neither was a part of the Tuesday proceeding.
The 276-store chain filed for bankruptcy protection in July citing tight credit markets, higher costs and a decline in consumer spending that left it unable to pay its debts.
On Monday the company said Bay Harbour Management had agreed to become the firm's "stalking horse" bidder with an offer to purchase the company as a going concern for $163 million. The bid allows Bay Harbour to make the first offer at the company's auction for its assets later this month.
(Reporting by Emily Chasan, editing by Gerald E. McCormick)
© Thomson Reuters 2022 All rights reserved.