London's new designers focus on art
By Catherine Bosley and Kylie MacLellan
LONDON (Reuters) - Graduates of Britain's top fashion design school are so focussed on their art that they don't worry about finding jobs and may even regard the global recession as a blessing in disguise.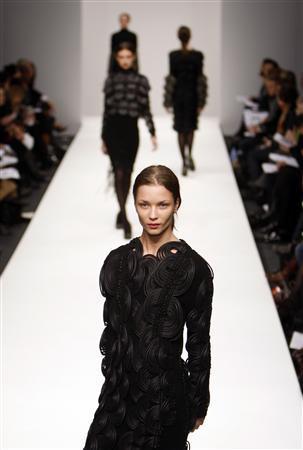 The 2009 graduates of London's Central Saint Martins showed their debut collections at the first day of London Fashion Week on Friday. Considered a cradle of talent for the fashion world, it has produced such superstars as Stella McCartney and John Galliano of Dior.
But while many British graduates are facing a bleak future as employers cut down on hiring, Saint Martins students were not concerned.
"I do what I love. At the moment I don't think about anything bad or the economic crisis," said student David Koma, a young designer from St. Petersburg who was awarded a prize by Harrods for his collection. He will show his clothes in the luxury retailer's store window.
"For now, I see myself hopefully in London fashion week in September. That's the main thing." added Koma, who said 1960s designer Pierre Cardin had been a major inspiration for his designs, black minidresses with plunging necklines and shiny silver embellishments.
None of the students interviewed by Reuters cited the economic downturn as a creative influence, and most said they were content to continue doing what they loved.
"I'm playing it by ear," said graduate Kate Davies. Along with Lauren McCalmont she designed a collection of womenswear that included black shimmery tunics.
McCalmont said she was equally open-minded. "I think you just need to take the times as they are," she said. "Designers are always struggling."
NO CONCRETE PLANS
A recent study showed British employers were hiring about 18 percent fewer graduates than they had originally planned, but Jo Ortmans, spokeswoman for Saint Martins, said its graduates would eventually find their way.
"As a designer, you start in your own little recession," Ortmans said, adding that while many of the graduates were leaving school with fixed aspirations, their paths would likely change once they joined the workforce.
"Once you get out there, there are a million other jobs," she said. "You can always find a way."
Graduate Derek Lawlor spent more than a year perfecting a technique inspired by Japanese body armour of layering waxed-cotton cords over cashmere sweaters, to create a lace effect for the outfits in his collection.
"There's no concrete plans," he said, glancing around the bustling backstage area, where models, fellow graduates, and parents were crowding between racks of clothing. "I don't think anyone in this room has concrete plans."
"It does seem quite worrying but I don't think you should think like that. Fashion doesn't stop," he said. "I'm doing what I love."
For the show, hosted by American model Tyson Beckford and attended by model Erin O'Connor, many of the 17 students opted for slim silhouettes and conservative necklines but combined them with asymmetric cuts and bright colours.
"Some of them are really commercial obviously and some are a bit more fun," said Cassie Fitzpatrick, who works for style trend analysis website WGSN.
"In this sort of economic climate I suppose it was really interesting to see what they were producing," she added.
Student Charlotte LaRoche said she thought the recession would likely give fledgling designers a boost, providing an opportunity to break into what is a very competitive market.
"Most of my friends think it's not a bad thing because with less money you can invest in new talent," LaRoche, with long chestnut hair and dangly silver earrings, told Reuters after the show at London's Natural History Museum.
"I do think it will hit hard," she said. "But in a way that forces you to be more creative."
© Thomson Reuters 2023 All rights reserved.