Luxury brands must brush up service to succeed
By Miral Fahmy

SINGAPORE (Reuters Life!) - Creating a craving for that designer handbag or that trendy watch isn't enough to get customers to whip out their credit cards, but treating them well certainly can, an expert on luxury brands says.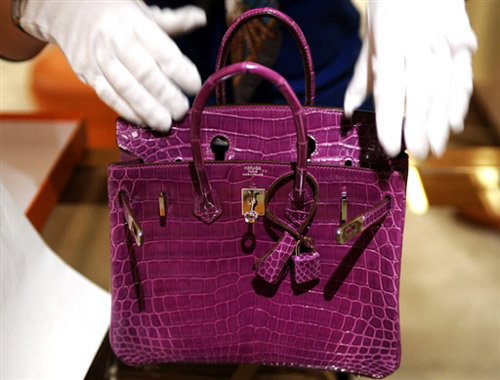 Photo : Sam Yeh/AFP
Michel Phan of the Paris-based ESSEC Business School, which runs the world's only luxury brand managament MBA programme, says service -- online, in-store and after-sale -- is vital for luxury retailers in Asia.
Research shows affluent households are expected to spend just over $605 billion on discretionary items in 2015.
"Service is the weakest link in the luxury business model," explained Phan, assistant professor of marketing at ESSEC.
"I often tell retailers -- you have a beautiful product, a wonderful store, but when it comes to service, it's not on par, or its not even there," Phan, director of the MasterCard-ESSEC luxury brand management executive programme, told Reuters.
Compared to Europe and the United States, many Asian economies have weathered the global financial crisis, driving several luxury retails to look eastwards for growth.
LVMH, the world's biggest luxury goods group which owns the
Louis Vuitton
brand especially popular in Asia, said China was the main contributor to emerging market sales, which make up about 30 percent of turnover.
Rival
Richemont
, the world's second largest luxury group in terms of sales and which includes the
Cartier
brand, also counts China as one of its main markets.
In Asia, Phan said luxury spending was expected to grow between 6 and 7 percent in the year starting July, compared to a decline of up to 15 percent in the United States and a drop of up to 5 percent in Europe.
But even though they have more cash to shop with, Phan said the economic doldrums had put a brake on a lot of impulse buying in Asia, making top-notch service especially pertinent.
"No one ever says 'Congratulations for buying this brand, you've done well'," Phan said.
"It's not enough to say 'Our brand is expensive, or known'. You have to make customers connect with your brand, especially during this crisis, when they're more reluctant to buy on the spur of the moment. You have to give people a good reason to buy."
With the ranks of the newly rich swelling in some Asian countries, luxury retailers need to educate potential customers about their wares, Phan said, in contrast to Europe where affluent customers who frequent luxury retailers are well aware of the value of what they're buying.
Phan, who admits he's on a one-man quest to improve the service at luxury retails across Asia, said sales teams should appeal to customers' emotions, online or at the store, to succeed.
"You've got Japan and South Korea, which are mature markets for luxury, but in other emerging markets such as China, consumers don't know much about the history of the brand, and this is the area that services can make a good contribution," he said.
"Tell them a story, tell them the history. A watch, a bag, a pair of shoes can become so much more if you educate people."
(Editing by Sugita Katyal)
© Thomson Reuters 2022 All rights reserved.