Mumbai traffic drowns out "no honking" plea
By Jonathan Allen
MUMBAI (Reuters) - Mumbai police tried to hush one of the world's largest and noisiest cities on Monday by asking drivers to refrain from endlessly honking their horns, but their message appeared to have been drowned out in the cacophony.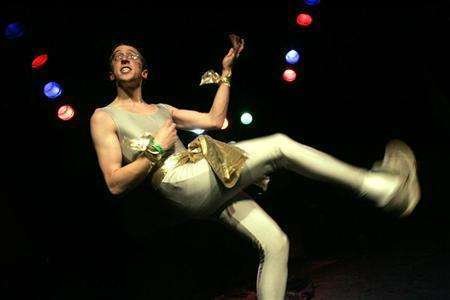 "We hope to convince people that you can drive in Bombay without honking horns," said Harish Baijal, deputy commissioner of Mumbai police, using the city's previous official name.
His campaign is only the latest in a series of sporadic efforts to tame some of urban India's characteristic bustle. Like earlier crackdowns on spitting, urinating in public and jaywalking, the effects of No Honking Day were, at best, subtle.
Although police had handed out fines worth 100 rupees to 1,400 drivers for unnecessary honking by Monday afternoon, driving through this island metropolis still meant getting an earful of blares, toots, and honks.
India's financial capital is transforming rapidly, with crumbling colonial buildings and textile mills making way for skyscrapers and shopping malls. Nonetheless, the minds of its nearly 20 million residents cannot be changed in a day.
Many drivers on the city's frequently jammed streets see the horn as a fundamental component of their vehicles, as important as the steering wheel and accelerator.
Some drivers seem to invite others to honk at them: the slogan "Horn Please" is painted on the back of many Indian trucks. With rearview mirrors often folded in or simply unused, drivers are encouraged to make themselves heard where they cannot be seen.
But Baijal and his colleagues think horn-dependency encourages rash driving, endangers people's hearing and frays their nerves.
Ahead of "No Honking Day", Baijal's colleagues dotted the city with signs advertising the date, stressed the futility of incessant honking in a series of radio spots, and recruited film star Amitabh Bachchan to paste a "No Honking" sticker on his car.
Bachchan explained to the local media on Saturday his chauffeur was instructed to honk only when absolutely necessary.
The actor never explained in what circumstances he considered it necessary to honk, but Aliser Khan, a 40-year-old taxi driver, said such a moment comes every few minutes.
"Pedestrians never look," Khan complained. Crossings are not always conveniently placed in Mumbai, and many find that a mad dash is the surest way to cross the road. "All the time, people come from the left, people come from the right," Khan said.
In honor of "No Honking Day", he agreed to give a passenger a ride without using his horn, but honked a few minutes after setting off at a cyclist who swerved across his lane. He apologetically blamed his thumb for reaching for the horn without even thinking about it.
After being wowed by what he describes as the relative peace of London, Baijal of Mumbai police thinks a sustained anti-honking campaign could work in India.
"Just like London eradicated polio and chickenpox, London has eradicated honking," he said. "I'm very optimistic we can do it here."
(Editing by Alistair Scrutton and Bill Tarrant)
© Thomson Reuters 2022 All rights reserved.