Nokia luxury arm eyes expansion despite downturn
By Mark Potter
LONDON (Reuters) - Vertu, the prestige arm of handset maker Nokia, is planning a rapid expansion despite the economic downturn, believing the mobile phone could become the next hit item on the luxury goods market.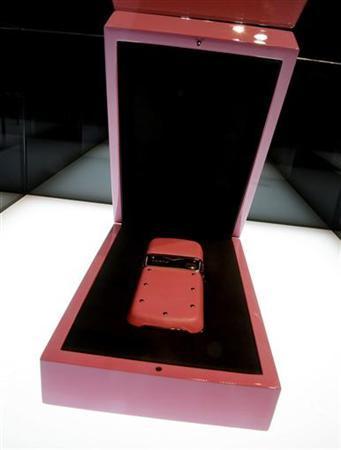 Frank Nuovo, creative director, designer and co-founder, told Reuters that Vertu planned to have 50 stand-alone stores worldwide by the end of next year, up from about 30 now.
Speaking at the opening of the group's first stand-alone store in the UK on London's Old Bond Street, Nuovo said attitudes towards mobile phones, which have traditionally had short product lives as users seek to upgrade to the next new technology, were starting to change.
"There will be a time when you'll say 'what more do you really want to put into this?' and then essentially you're in the same situation as the watch," he said.
"At the beginning, watches were purely about their function. Over time it made sense that people started crafting them at a higher level," he said.
Vertu, founded in 1998, sells gem-encrusted, hand-built mobile phones ranging in price from 3,500 euros (2,974 pounds) to over 100,000 euros from over 500 retail outlets -- including jewellers and department stores -- around the world.
Nuovo said the firm was not immune to the global economic downturn, but that so far sales had remained strong, with waiting lists for its two latest ranges -- Signature, which features 4.75 carats of solid ruby bearings in its keypad, and a Ferrari collection developed with the luxury carmaker and including ringtones written by pop star Dave Stewart.
After signs of resilience to the consumer downturn earlier this year, luxury goods firms are increasingly the feeling strain.
Fashion label Burberry warned on Tuesday of increasingly tough trading, while Bulgari, the world's third-biggest jewellery maker, warned on profits last week.
ROLLER-COASTER
Even the very top on the market has been hit, with Christie's post-war and contemporary auction in New York earlier this month taking in $113.6 million, half a low pre-sale estimate of $227 million, with 68 percent of lots sold.
But Nuovo was confident the luxury mobile phone market retained strong growth credentials.
Luxury watches account for up to around 2 percent of all watches sold, but generate about 50 percent of revenues, said Chief Engineer Hutch Hutchison.
With Nokia forecasting 1.24 billion mobile phones will be sold worldwide this year "you can see the opportunity," he said.
Other luxury goods firms including Swiss watchmaker TAG Heuer -- part of French group LVMH -- and Christian Dior, have also launched luxury mobile phones this year.
But Vertu is relaxed about competition, saying it has a head start of several years and an established client base, which has included pop star Beyonce and business magnate Donald Trump.
"Every brand that joins this space makes the whole thing so much more believable," Hutchison said.
Nokia declines to break down financial results for Vertu, which plans to open its next stand-alone boutique in Japan.
(editing by John Stonestreet)
© Thomson Reuters 2023 All rights reserved.