Pakistani women weave tapestries of empowerment
By Sahar Ahmed
KARACHI (Reuters Life!) - Pakistan's largely lawless border with Afghanistan isn't the sort of place most people associate with creativity, but two sisters are making sure the region's talented women get the recognition they deserve.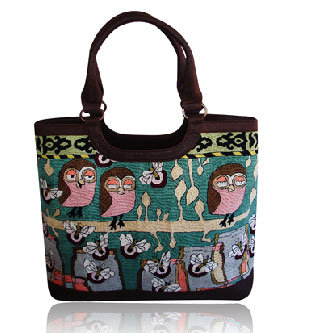 Photo: www.pollyandme.com
Australians Cath and Ange Braid, a fashion designer and an artist, set up "Polly and Me," a company that works with women from the remote village of Chitral, beneath the Hindu Kush, to create embroidered pieces that sell for thousands of dollars and which were featured in
Vogue
magazine.
The company employs some 400 women from the conservative Muslim village, giving them a job and a wage -- which for many, are considered to be a luxury.
While the Braids design what the women weave, they recently gave them free-reign, holding an exhibition of the resulting artworks of a selected group of 35 weavers. The works were shown in Islamabad, Karachi and Australia.
All proceeds of the items sold during the exhibition, entitled "Gup-Shup" or Hindi and Urdu for "chit-chat," went back to the women, with some pieces selling for up to $3,600.
"The aim of Gup-Shup is to provide a stark contrast to how Pakistan has been represented, particularly in the last two years," Ange Braid told Reuters.
"It is strongly felt that the everyday lives and traditions of common people are not highlighted, particularly the voices of ordinary women, who very often don't get heard," she added.
"We sold almost all of it and all the money goes back to them, because we want them to feel like artists."
Chitral is largely untouched by the Islamist militancy sweeping other parts of the northwest, though it has a long border with Afghanistan, where Taliban militants cross at will.
The women largely work from home, in keeping with the social mores of the community, and, for the exhibition, created pieces that reflect their every-day lives and their aspirations.
There were tapestries and woven bags that showed the contents of one woman's kitchen; others depicted children playing, a mother with her daughter, laundry day, even a young woman's dream of becoming a pilot.
"It's really like trying to empower the women in the community and also for other people to understand lives that they usually won't be able to see," Braid said.
"The artworks reflect the universality of women's lives, everywhere."
(Editing by Miral Fahmy)
© Thomson Reuters 2022 All rights reserved.