Steven Madden Q2 above market estimates, shares up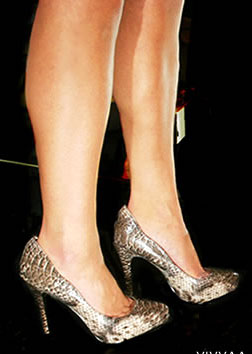 www.stevemadden.com
BANGALORE, Aug 5 (Reuters) - Shoe maker Steven Madden Ltd posted a second-quarter results that topped market estimates, helped by strong sales increases in its Madden Girl and Daniel M. Friedman brands, and backed its 2008 outlook, sending its shares up about 7 percent.
The company managed its inventories better and didn't pay the department stores as much markdown money as they had to in the previous quarters, analyst Sam Poser of Sterne Agee told Reuters.
He has a "buy" rating and a $26 price target on the stock.
"I do believe that the company's guidance is conservative and it can beat it," Poser added.
Steven Madden, known for its fashionable shoes and accessories, has licensees for its brands, including for outerwear, cold weather accessories, eyewear, and hosiery and owns and operates 99 retail stores, including its online store.
For the second quarter, the company posted a net income of $7.6 million, or 43 cents a share, compared with a net income of $10.5 million, or 49 cents a share, a year ago.
Net sales rose marginally to $109.3 million from $108.3, a year ago.
Analysts on average had expected earnings of 40 cents a share, excluding exceptional items, on revenue of $106.7 million, according to Reuters Estimates.
Gross margin fell slightly to 41.7 percent compared with 42 percent a year ago due to a margin decline in the retail division, which was partially offset by a margin increase in the wholesale division.
Looking ahead, Steven Madden said it still expects 2008 sales to be flat to a 2 percent increase, with earnings between $1.55 and $1.65 a share, excluding a one-time charge.
Analysts were expecting earnings of $1.55 a share for fiscal 2008, and sales of $431.1 million.
Shares of the company were up $1.52 at $24 in morning trade on Nasdaq. (Reporting by Swagata Gupta in Bangalore; Editing by Amitha Rajan) (([email protected]; within U.S. +1 646 223 8780; outside U.S. +91 80 4135 5800; Reuters Messaging: [email protected]))
© Thomson Reuters 2023 All rights reserved.