Amazon reworks website before offering new tablet
NEW YORK | Sun Sep 4, 2011 - Amazon.com Inc is rolling out a major redesign of its familiar website as it prepares to offer a new $250 tablet device to rival Apple Inc's iPad.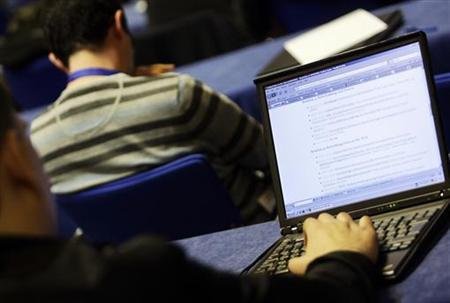 Photo: Reuters
The changes in Amazon's online store "practically scream 'tablet-optimized'," TechCrunch blogger Sarah Perez wrote over the weekend after her site reported seeing a prototype of the company's new device.
The new web pages show a bigger search bar and less clutter to better highlight music, e-books, digital games and applications from the Amazon Appstore using
Google
's Android operating system, the blog said.
Amazon started rolling out the new design in the last days of August, spokeswoman Sally Fouts said in an email on Sunday.
"We are continuing to roll out the new design to additional customers, but I can't speculate on when the new design will be live for everyone," Fouts wrote.
Amazon, the world's largest online retailer, is introducing the new site and tablet device as the company goes beyond its roots selling through personal computers to reaching customers via the kind of mobile connections they increasingly use.
Getting more mobile devices into the hands of Amazon customers is important, too, because it may enable more impulse buying and increased regular purchases.
The device Amazon is developing sports a back-lit, 7-inch (17.8-cm) screen -- smaller than the iPad's and about the same as Research in Motion's PlayBook, TechCrunch reported earlier. The Amazon tablet is geared toward playing music and movies off the Internet.
TechCrunch, which said it had played with a testing prototype, reported that the plan was for Amazon to offer Amazon Prime -- its $79-a-year Internet streaming service -- for free along with the gadget.
The Internet retailer's first entry in the tablet computing arena -- its Kindle functions more like an electronic-book reader -- has been touted as a strong contender to Apple, whose iPad2 starts at $499, according to the company's website.
Amazon's tablet will be Wi-Fi only and come with a color touchscreen but a limited 6 gigabytes of memory, the tech blog said.
Motorola and
Samsung
have only chipped away at Apple's three-quarters share of the market, while Hewlett Packard threw in the towel by announcing it would kill off its TouchPad after a final production run.
This past week, Sony Corp leapt into the field with its own poorly reviewed device.
Analysts have been upbeat on Amazon's gadget, particularly if it beats the iPad on price. It may sell as many as 5 million tablets in the fourth quarter, becoming the top rival to Apple, Forrester Research estimates.
Apple sells between 7 million and 9 million tablets a quarter. (Reporting by David Henry, Alistair Barr and Edwin Chan; Editing by Dale Hudson)
© Thomson Reuters 2023 All rights reserved.