AnnTaylor names new president, cautious about economy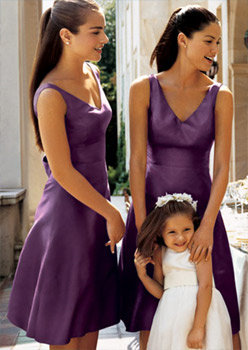 www.AnnTaylor.com
By Martinne Geller
NEW YORK (Reuters) - AnnTaylor Stores Corp named a new president for its flagship retail division on Tuesday, and said second-quarter earnings would be better than expected, but that store traffic remains slow.
The women's clothing maker, which operates the Ann Taylor and Ann Taylor LOFT chains, maintained its 2008 earnings outlook and cautioned that the U.S. macroeconomic environment remains "very weak" and "uncertain" and that "traffic levels continue to be challenging."
The company said Christine Beauchamp will immediately replace Ann Taylor Stores President Adrienne Lazarus, who is leaving the company.
Beauchamp, who has been a strategic consultant to the company since earlier this year, most recently worked for Limited Brands Inc as president and CEO of Victoria's Secret Beauty, the company said. An AnnTaylor spokeswoman declined to give reasons for the executive change and Lazarus could not be reached for comment.
Despite Beauchamp's lack of apparel merchandise experience, Thomas Weisel Partners analyst Liz Dunn said in a research note she believes Beauchamp has "a good background and has already had some influence on the business." She said her initial impression of the holiday assortment at both Ann Taylor and LOFT were favorable.
AnnTaylor shares, which jumped as much as 5.7 percent earlier, closed down 15 cents, or 0.6 percent at $25.85 on the New York Stock Exchange.
STRENGTH IN A TOUGH TIME
AnnTaylor is working to turn itself around through cost-cutting and inventory management, analysts have said, after a string of uninspiring fashions put the chain out of favor with its target customers, who are mature, professional women.
Since these women often have families and large existing wardrobes, they are often the first to cut back during an economic downturn. AnnTaylor, like rivals Chico's FAS Inc , Talbots Inc and Coldwater Creek Inc , have been especially hurt.
The company said in May that the weak U.S. economy would weigh on profit in the second quarter, citing very volatile store traffic trends and signs that its customers were needing broader promotions to make them spend their discretionary dollars.
AnnTaylor said a conservative approach to managing its business amid a weakened U.S. economy will help second-quarter earnings exceed a company forecast for 42 cents to 47 cents per share.
The company said that its full-year earnings should be in a range of $1.80 to $1.90 per share, its previous estimate.
Analysts on average were expecting earnings per share of 45 cents in the second quarter and $1.82 per share for 2008, according to Reuters Estimates.
"We are impressed with AnnTaylor's results in light of the difficult environment," wrote Dunn about the second-quarter forecast. "However we believe a management change in the midst of a merchandise turn does add some risk to the story. In addition, we would like to see both divisions executing well simultaneously before we can get more positive on the story."
Dunn reiterated her "Market Weight" rating on AnnTaylor shares but lifted her price target to $27 from $24.
With a new president at the helm of LOFT, the chain has been able to improve sales with more relevant fashions. In May, when AnnTaylor reported first-quarter earnings, former Oppenheimer analyst Roxanne Meyer said LOFT's performance was "respectable" and seemed to be picking up the slack for Ann Taylor, which she called a "work in progress."
Before the company's announcement on Tuesday, Citigroup retail analyst Kimberly Greenberger had downgraded shares of AnnTaylor to "sell" from "buy" ahead of next week's earnings release, citing the possibility that the company would miss its second-quarter forecast and see its shares fall.
Greenberger lowered her view of second quarter earnings per share to 38 cents from her previous estimate of 45 cents.
"While we continue to view the company's long-term restructuring story favorably, including closing underperforming stores, better inventory management and improved product execution, we believe investors should look for a more attractive entry point to buy the stock," Greenberger wrote.
(Editing by Phil Berlowitz and Carol Bishopric)
© Thomson Reuters 2023 All rights reserved.