ASOS aiming to become the Amazon of fashion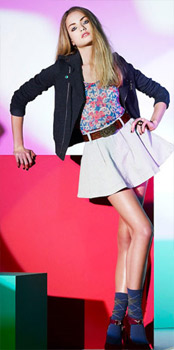 Asos "The Skirt is Back"
By Mark Potter
LONDON (Reuters) - Online fashion firm ASOS hasn't noticed a downturn in consumer spending and is planning a range of initiatives aimed at staying ahead of growing competition from store groups, its chief executive said.
Nick Robertson, speaking to Reuters at ASOS's clothes-strewn headquarters, said the group was aiming to become the fashion equivalent of books, DVDs and consumer electricals Internet pioneer Amazon.com, with plans for a marketplace for second-hand clothes and homepages tailored for customers.
"Everyone's online bit of their retail mix is growing like stink," he said, adding that sales growth was so strong that "we can't notice" the downturn in consumer spending that has ravaged the sales, and share prices, of traditional stores groups.
ASOS, whose current bestsellers include tulip skirt dresses, tartan prom dresses and knitted boots, reported a 95 percent rise in first-quarter sales in June. Robertson declined to say whether sales growth remained over 90 percent but, when asked, said: "Suffice to say I have a very big grin on my face."
He also said ASOS enjoyed its first day of takings in excess of 1 million pounds two weeks ago.
Online retail sales are booming as growing broadband penetration makes Internet shopping easier and cash-strapped shoppers seek bargains from Web sites that are often able to sell their goods more cheaply than store groups.
Online sales in Britain leapt 38 percent in the first half of 2008 to 26.5 billion pounds, according to IMRG Capgemini. Verdict Research estimates Internet sales account for 5.9 percent of Britain's 41.6 billion-pounds-a-year clothing and footwear market and that this will rise to 12.7 percent by 2012.
"I genuinely believe we're at the tip of the iceberg on this," Robertson said.
MORE CHOICE
He said store groups, like retail tycoon Philip Green's Top Shop, were getting better at trading online.
But they don't pose a threat to ASOS which, with over 14,000 products on its website and 600 new options added every week, operate on a different scale, Robertson said.
"This is a fundamental difference...I can never see a situation where one High Street retailer is going to stock 15 of its main rivals. We will, because we're not a High Street retailer," he said.
Robertson said ASOS would continue to add new products and was planning new initiatives to stay ahead of the competition.
The group is due to launch ASOS Red, a clearance site for branded clothes, on September 1 and its three studios were busy with photo-shoots for this, as well as its main Web site.
Robertson said the group planned to launch an ASOS marketplace in February, which will initially allow shoppers to trade second-hand goods and towards the end of the year will also allow small fashion boutiques to upload their products.
It will also introduce a range of new delivery options, including next day delivery and also free delivery and free returns options, during the same month.
In around 12 months, it will introduce more tailored emails and homepages for its customers and in around 18 months it plans to launch sites for foreign markets, Robertson said.
Selling children's clothes, maternity wear and expanding own-brand ranges into the premium and/or budget segments are other options.
ASOS shares have outperformed the general retailers index
by 88 percent this year and trade at about 27 times forecast earnings, well above the general retail sector median of about 10, according to Reuters data.
But Evolution analysts still rate the stock a buy.
"Upgrade catalysts and underlying high growth more than justify the current comparatively high multiples," they wrote in a recent research note.
(Editing by Tony Austin)
© Thomson Reuters 2023 All rights reserved.