Burberry H1 profit up 3 pct, H2 trading harder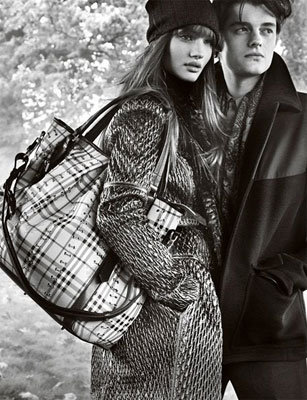 Burberry fall-winter 2008/2009
* Burberry H1 operating profit 98.4 mln pounds
* Says trading more difficult in H2
* Sees FY operating profit mid to lower end of market hopes
* H1 div maintained at 3.35 pence
(Adds detail)
LONDON, Nov 18 (Reuters) - Burberry , the British luxury brand, on Tuesday reported a 3 percent increase in first-half profit but said trading has been more difficult since the start of the second half, particularly in the U.S. It said that with peak season trading to come if initial trends continue full-year underlying operating profit would be in the mid to lower half of the current range of market expectations. For the six months to Sept. 30 Burberry made an underlying operating profit of 98.4 million pounds ($146.8 million).
This compares to analyst forecasts of 91 million pounds to 98 million and 95.1 million pounds in the same period last year. The interim dividend was maintained at 3.35 pence.
(Reporting by James Davey, Editing by Mark Potter)
© Thomson Reuters 2022 All rights reserved.