Fossil outlook hit by weak economy, strong US dollar
* Cuts Q4 profit view
* Cites weak economy, strengthening U.S. dollar
* Q3 EPS 54 cents beats Street by 2 cents
* Q3 sales beat est. by $4.7 mln
* Shares down 6 pct
Nov 11 (Reuters) - Watchmaker Fossil Inc posted better-than-expected quarterly results, but cut its fourth-quarter earnings outlook to reflect a weaker economy and pressure from the strengthening U.S. dollar, sending its shares down 6 percent.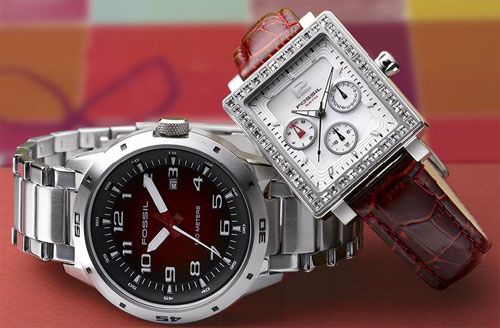 www.Fossil.com
"Since the end of the third quarter business conditions have grown more challenging," Chief Financial Officer Mike Kovar said in a statement.
"Global economies have weakened, but even more significant to our business model, is that the U.S. dollar has strengthened appreciably against most other currencies."
Fossil, known for its namesake watches and Relic handbags, derives a significant portion of its sales from international markets.
The company, which also sells jewelry, leather goods, belts, sunglasses and apparel, expects fourth-quarter earnings of 70 cents a share, or 91 cents a share on a constant dollar basis.
The company, which competes with Quiksilver Inc , Movado Group Inc and larger rival like Coach Inc , had earlier forecast earnings of 94 cents to 97 cents a share for the period.
Fossil posted a third-quarter profit of $36.5 million, compared with $30.5 million a year earlier. Net sales rose 14 percent to $409.8 million.
Total international wholesale sales rose about 16 percent.
Other international wholesale sales increased about 23 percent, driven mainly by sales volume growth in Fossil and licensed brand watches and jewelry. Direct to consumer sales rose 22 percent, while e-commerce sales surged 33 percent.
Shares of the company fell to $14.10 before the bell, after closing at $14.98 Monday on Nasdaq.
For the alerts, please double-click .
For the press release, double-click . (Reporting by Dilipp S. Nag in Bangalore; Editing by Pratish Narayanan)
© Thomson Reuters 2023 All rights reserved.