Fossil Q2 profit tops Street view; raises FY outlook
Aug 12 (Reuters) - Watchmaker Fossil Inc posted a better-than-expected quarterly profit, driven by strong international sales, and boosted its full-year earnings forecast, sending its shares up as much as 14 percent.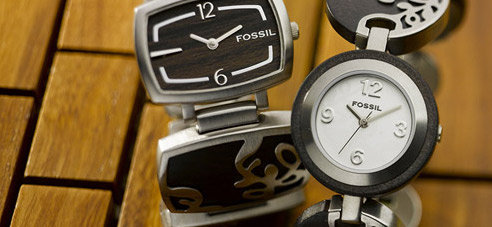 www.Fossil.com
The company said it entered into a license agreement with Donna Karan Studio LLC to develop and distribute a line of women's and men's fashion jewelry under the
DKNY
label.
It expects distribution to start during the third quarter.
Fossil, known for its namesake watches and Relic handbags, reported a profit of $25.1 million, or 36 cents a share, for the second quarter ended July 5, compared with $14.7 million, or 21 cents a share, a year earlier.
The quarter benefited from lower effective tax rate and net pretax foreign currency gains of 6 cents a share, the company said in a statement.
Analysts on average expected earnings of 25 cents a share, before special items, according to Reuters Estimates.
Fossil, which derives a significant portion of its sales from international markets, said net sales rose 15 percent to $353.2 million. Analysts expected $346.9 million.
International wholesale sales rose 9.5 percent, excluding the impact of currency conversion, due to higher sales volume of its namesake and licensed brand watches.
Sales grew 3 percent in Europe, while other international sales jumped 21.4 percent, excluding currency impact, Fossil said.
Revenue was also helped by a 5.7 percent increase in same-store sales, a higher number of company-owned stores in the period, better sales of Relic brand of handbags, Fossil accessories jewelry and Fossil Fifty-Four handbag line.
Richardson, Texas-based Fossil said domestic net sales from the company's wholesale segment increased 1.5 percent.
The company's wholesale customers include retailers such as Neiman Marcus Inc, Nordstrom Inc , Macy's Inc , Dillard's Inc , Wal-Mart Stores Inc and Target Corp .
Gross profit margin increased by 480 basis points to 53.9 percent in the second quarter partly helped by a weaker U.S. dollar and reduced product costs.
BRIGHT OUTLOOK
For fiscal 2008, Fossil forecast earnings of $2.27 to $2.30 a share, up from its prior outlook of $2.18 to $2.22. Analysts were expecting $2.21 a share before items.
The company said its outlook takes into effect the strengthening of the U.S. dollar.
Fossil, which plans to add 80 to 85 stores to its chain of over 260 stores in the United States and abroad this year, said it expects net sales for the second half of the year to rise in the mid-teens range.
For the third quarter, Fossil said it expects a profit of 53 cents a share. Analysts were looking for 55 cents, before items.
Shares of the company were up 7 percent at $30.81 in morning trade Tuesday on Nasdaq. They have gained more than 45 percent so far, since touching a 52-week low of $22.26 last month. (Reporting by Dilipp S. Nag in Bangalore; Editing by Deepak Kannan, Vinu Pilakkott)
© Thomson Reuters 2023 All rights reserved.