Loft Design By arrives in London
In Notting Hill, in the windows of 186 Westbourne Grove, a man-sized Eiffel Tower takes pride of place sporting the Union Jack. The reason? To remind people that under an anglicised name hides one of the most Parisian brands in ready-to-wear clothing.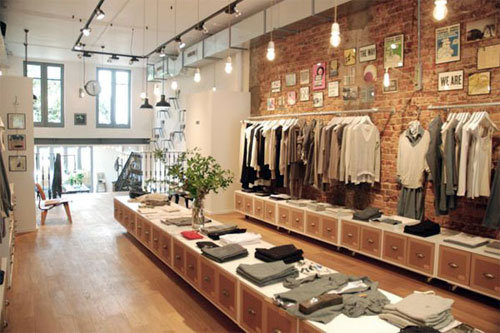 Loft Design By boutique in London
Announced at the beginning of the year at the opening of Abbesses, the London boutique is the label's first on English soil. The decoration mirrors that which is found in French stores, with metallic lamps, visible brickwork and industrio-bourgeois ambiance, giving a clear, natural and airy space that has retained its loft spirit and blends emptiness and cardboard boxes atop a bare wooden floor.
As for the collection,
Loft Design By
stays true to form. The brand run by Patrick Frèche brings the "Parisian touch" to England and for the coming Spring/Summer season one will find, alongside other classics: jumpers made from organic cotton, hooded or v-necked, for men, women and children; light silk tunics and dresses made from linen or even bamboo. A simple yet effective wardrobe never fails to appeal.

By Jonathan Fulwell (Source: Emilie-Alice Fabrizi)
Copyright © 2022 FashionNetwork.com All rights reserved.