Madonna to wear Givenchy for Sticky and Sweet tour
PARIS (Reuters) - Madonna has chosen French Haute Couture house Givenchy to design clothing for her new "Sticky and Sweet" world tour which starts in Wales this month, the fashion firm said on Tuesday.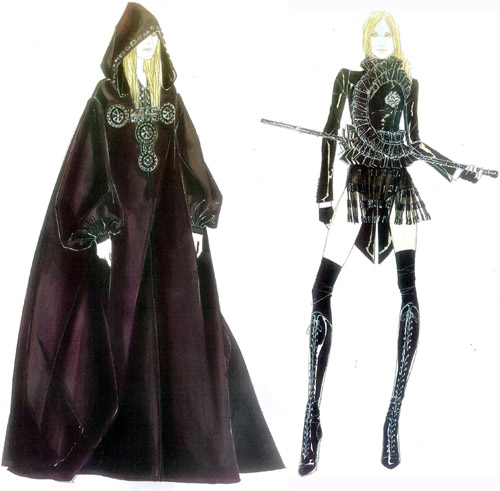 Madonna wears Givenchy clothes
Two outfits from Givenchy Haute Couture by designer Riccardo Tisci have been created for the "queen of pop". Givenchy described the first as "a reference to 'Gangster Pimp' and Art Deco" and the second as "a Gypsy inspiration".
"I feel incredibly fortunate to have been given the opportunity to offer the world of Givenchy Haute Couture to Madonna the Icon, the Artist, the Woman for whom I have so much respect and admiration, " Tisci said in a press statement.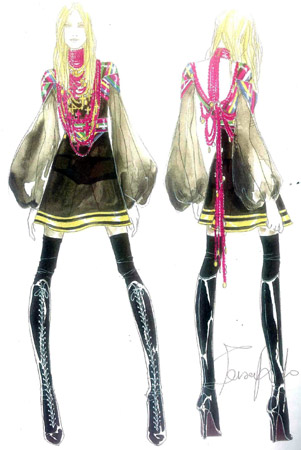 Madonna wears Givenchy clothes
The first outfit is described as a frock coat in black stretch satin, trimmed with pleated black silk organza embroidered with jet beads and waistcoat in black stretch satin trimmed with black silk fringes embroidered with jet beads and laced up corseted back.
The "Gypsy" outfit consists of a long-hooded cape in black silk taffeta, lined in fuchsia silk taffeta and embroidered with jet stones and a dress in black stretch chiffon trimmed with multicoloured ribbons and fuchsia coloured metal chains worn with a matching necklace.
(Reporting by Paul Casciato)
© Thomson Reuters 2023 All rights reserved.