Next cautious about outlook as sales fall
By Mark Potter
LONDON (Reuters) - Clothing retailer Next posted a 6 percent fall in first-half underlying sales, in line with forecasts, and said it expected a similar decline in the second half amid a worsening economy.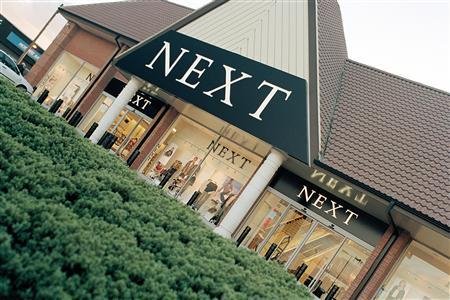 However, Finance Director David Keens told Reuters the firm was comfortable with analysts' current full-year profit forecasts and that its decision to focus on the mid-to-premium end of the mass market was bearing fruit.
"In this environment, we believe they're (shoppers) likely to buy things that really appeal to them rather than the basic necessities, which they've probably already got," he said in a telephone interview on Wednesday.
Next shares have more than halved in value over the past 15 months and underperformed the DJ Stoxx European retail index by 19 percent this year on concerns it would lose out to cheaper rivals in an economic downturn.
The stock rallied 5.5 percent in early trade, but by 10:50 a.m. had reversed to trade down 3.2 percent at 973 pence.
"We have no visibility as to when sales will start to grow again and, while management is doing an excellent job in margin control, consensus forecasts look fragile to us," said Panmure analyst Philip Dorgan, keeping a "sell" rating on the shares.
Many retailers are struggling as indebted shoppers curb spending amid higher food, fuel and mortgage costs. The Confederation of British Industry on Tuesday reported a record fall in annual sales for July.
Rival Marks & Spencer posted a 6.2 percent drop in like-for-like clothing and homewares sales in the 13 weeks to June 28, while same-store sales at discount chain Primark were close to flat in the 16 weeks to June 21.
"We remain very cautious about the outlook for the second half and can see no reason for any improvement in consumer spending," Next said in a trading statement. "Indeed, the economic risks appear to us to be on the downside."
However, Keens said he was comfortable with analysts' current profit forecasts for the year ending January 2009, which are mostly grouped between 430 million and 440 million pounds and compare with 498 million the year before.
TIGHTENING BELTS
Next, which runs about 480 shops in the UK and Ireland as well as the mail order Next Directory business, said like-for-like full price sales in its 353 stores not affected by new openings fell 6 percent in the 26 weeks to July 26.
This included a 2.4 percent drop in the second-quarter after a 9.4 percent plunge in the first, though both were distorted by weather and Next said the first-half number was a better guide.
Group sales fell 1.8 percent, including a 3.1 percent drop in total retail sales and a 2 percent rise at Next Directory.
Keens said upmarket clothes -- made with better fabrics, more styling and more embellishments -- continued to sell well.
The market for menswear, however, was particularly tough.
"When families tighten their belts it's the men who tighten their clothing spend before the ladies and the children," Keens said.
Next was managing stock tightly and had gone into its end-of-season sale with about 20 percent less stock than last year, he said, adding the clearance was about 80 percent complete and the rest would be sold over the next two weeks.
(Editing by Louise Ireland; editing by Sue Thomas)
© Thomson Reuters 2023 All rights reserved.