Next still sees sales falling in 2010
By James Davey
LONDON (Reuters) - Clothing and homewares retailer Next (NXT.L) is still budgeting for negative like-for-like sales in Spring/Summer 2010 even after raising second-half guidance, its chief executive said.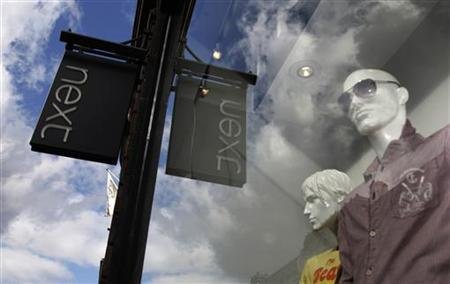 Simon Wolfson said he was concerned by the prospect of increased taxation on consumer spending in 2010 regardless of which party won a general election that must be held by June.
"It's a deliberate omission that we haven't changed our guidance for Spring 2010," he told Reuters in a telephone interview on Wednesday 4 November after Next reported better-than-expected third quarter sales.
"No one quite knows what the effect of increased taxation is going to be next year ... I think that is a huge macro economic spectre hanging over the economy," he said.
"As long as there is a prospect of reduced (public) spending and therefore reduced public sector employment and increased taxation remains on the cards, I don't think anyone should get too carried away with Spring/Summer 2010."
Wolfson said extrapolating Next's third-quarter outcome into next year would be a mistake.
"We're not necessarily going to see the year-on-year performance in Q3 reflected in the early part of next year," he said.
He explained the third quarter this year was up against very weak comparative numbers in the same period last year when publicity around the credit crisis and the demise of Lehman Brothers reached its height.
"We were up against a bubble of fear last year," he said.
The CEO said that, on balance, he was a little more optimistic about the wider economic outlook for the UK than he had been when Next last reported in September.
"What we can say with some certainty is that the consumer is not in freefall and we're seeing stability, if somewhat subdued stability, in consumer spending," he said.
He noted that Next had begun to see a year-on-year reduction in the number of customers going into arrears on their Next Directory accounts.
"That is a reflection of increased stability in consumer finances. So my gut feel is that the consumer is in much better shape than they were this time last year," he said.
Shares in Next were up 5.9 percent at 1,917 pence at 9:58 a.m., valuing the business at 3.78 billion pounds ($6.23 billion).
Separately on Wednesday 4 November, Marks & Spencer (MKS.L), Britain's largest clothing retailer, reported first-half profit at the top end of forecasts.
(Editing by Mark Potter and Simon Jessop)
© Thomson Reuters 2022 All rights reserved.