Richemont to create investment vehicle for BAT
By Katie Reid
ZURICH (Reuters) - Swiss firm Richemont , maker of Cartier watches and Piaget jewellery, said it will spin off its stake in British American Tobacco under a revamp prompted by tax changes.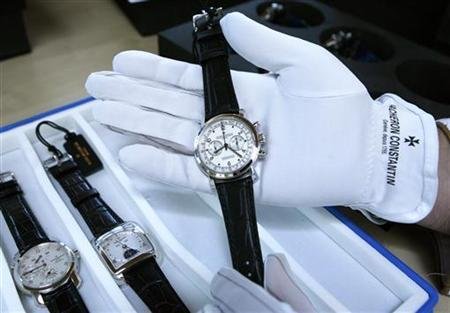 Analysts welcomed the move, noting Richemont trades at a discount to peers partly because some investors shun firms which deal in tobacco or alcohol.
Richemont, controlled by South Africa's billionaire Rupert family, will repackage its luxury business as a Swiss-listed company to be called Compagnie Financiere Richemont (CFR).
Lehman Brothers advised the family on the deal, which will see Richemont will spin off a 30.1 percent stake in BAT it holds with South Africa's Remgro via a joint Luxembourg vehicle called R&R Holdings.
Ninety percent of the stake will be given to shareholders and 3 percent of BAT will be held in a new investment vehicle called Reinet Investments S.C.A. with assets worth just under 1 billion euros (784 million pounds).
"This is very positive news and comes earlier than expected. In November they said they wanted to do this but did not specify when they would and gave a time limit up until 2010," said ZKB analyst Patrik Schwendimann.
"Richemont will now have a stand-alone luxury group and this should get rid of the discount Richemont is trading at and could even see the group trading at a premium versus other luxury companies."
Citi analyst Thomas Chauvet said the move should facilitate trading in Richemont shares as it would remove some investors' constraints on tobacco investment.
The two companies said the reorganisation was prompted by Luxembourg tax changes, which will see a 15-percent withholding tax imposed on R&R dividends from 2010.
Reinet is to be listed on the Luxembourg and Johannesburg stock exchanges and hold some assets which currently belong to Richemont SA. It will be controlled by Rupert family interests with Johann Rupert as chairman.
Richemont shares were up 2.4 percent at 63.50 Swiss francs at 2:48 p.m. British time, outpacing DJ Stoxx European Personal and Household Goods sector index which was up 0.5 percent.
BAT shares were down 2.8 percent in London at 1824 pence, while Remgro was up 4.0 percent in Johannesburg at 194 rand.
Remgro said BAT will apply for a secondary listing on the Johannesburg stock exchange, where it will be among the largest listings with a market capitalisation of about 560 billion rand (39 billion pounds).
(Additional reporting by Gugulakhe Lourie in Johannesburg; Editing by Jason Neely)
© Thomson Reuters 2023 All rights reserved.