True Religion third quarter misses Street, raises '09 view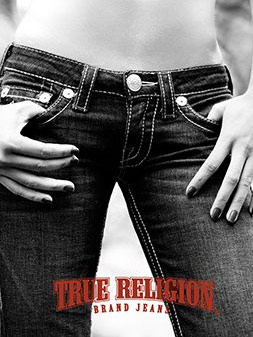 True Religion fall-winter campaign
Nov 3 (Reuters) - True Religion Apparel Inc's (TRLG.O) quarterly profit fell 9 percent and missed estimates by a penny, sending its shares down 12 percent in after-hours trade.

The company, however, raised its full-year outlook on stronger-than-expected gross margin growth.
For the full year, True Religion, whose namesake jeans can retail for as high as $300 in specialty boutiques and major department stores, said it now expects per-share earnings of $1.82 to $1.86, up from its prior view of $1.76 to $1.84.
The company also tweaked the lower end of its revenue view to a range of $295 million to $300 million. It had earlier expected revenue between $293 million and $300 million.
For the third quarter, True Religion, a young brand that began selling jeans with a horseshoe on its back pocket in 2003, earned $14.1 million, or 58 cents a share, while analysts were expecting a profit of 59 cents a share.
Revenue rose to 4 percent to $82.4 million.
Last year, the company had earned $15.4 million, or 64 cents a share, on revenue of $79.4 million.
During the quarter, gross profit at the company, whose jeans sell for over $100, rose to 64.7 percent of sales, from 58.4 percent last year.
Shares of the Vernon, California-based company were down 12 percent at $23.50 in after-market trade Tuesday 3 November. They closed at $26.56 on Nasdaq. (Reporting by Nivedita Bhattacharjee in Bangalore; Editing by Ratul Ray Chaudhuri)
© Thomson Reuters 2022 All rights reserved.